Narsi's Hof Brau fights on
17/07/2008 8:58:38 AM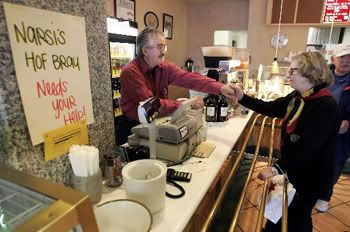 Narsi's Hof-Brau still fighting
If you've been following the ongoing saga of Coddingtown's Narsi Samii, you've probably got an opinion one way or the other. If not, let me sum it up for you: The long-time mall eatery is facing eviction by new co-owners to make way for a
Cheesecake Factory
.
The move is in line with Simon Property Group's attempt to modernize the outdated Coddingtown mall. The addition of a
Whole Foods
grocery is indicative of the kind of clientèle they're going for.
The fight boils down to the fact that Narsi has put a significant amount of money into the restaurant over the years and claims he was told he'd have what amounts to a perpetual lease on the spot from Hugh Codding. He's not looking to budge.A
trial to decide the fate of the restaurant is set for August 22,
according to Narsi.
But the question has to be asked: Why is Narsi putting up huge amounts of his own money to fight the corporate giant?
Why not just move? Though Narsi claims to feed between 250 and 400 folks a day, he says business is way down due to the economy. The traditional-style buffet is a draw for many senior citizens -- the sort of spot folks go for a cup of coffee and pastry in the morning or an early bird plate of roast beef, mashed potatoes and carrots. Not exactly the wheat grass smoothie or pear and endive salad crowd.
Narsi plans to fight on. He realizes that going to trial is a huge gamble, but says he's 99.9% confident he'll prevail. "They're trying to force me out," he says. What peaked BiteClub's interest in the whole argument was what appears to be
some significant action on a chef employment website for a local cook who's been involved with several other Cheesecake Factory openings.
Maybe nothing. Maybe a hint that things are heating up.
If Narsi loses the fight, he claims that the other local restaurateurs in the mall, including
Fresh China and Sukura
(both BiteClub faves) will face similar fights. That's yet to be seen.
What's your take on the fight?
...Proud pop John Iverson reports that his daughter
Ginevra Iverson of the soon-to-open Restaurant Eloise will be on the Food Network's Iron Chef America this Sunday
, July 24, with former boss Gabrielle Hamilton of Prune in NYC. The duo will battle Bobby Flay. Even dad, however, doesn't know who wins.